For all its talk of wireless this and that, tech gear is still a bunch of lumpy chargers and snakes of different cables, plus at least one adapter, and, for the road warrior, a mouse and portable power bank.
All the gear, if loose and unorganized, will work itself to the bottom of a bag—or worse be forgotten and left at home as you head out to the office or on holiday.
What you need is a dedicated bag to keep all this tech gear organized in one tidy, portable package.
Tech kit organizer bags promise to keep all your gear together and easy to reach. They come in all shapes and sizes, and we've gathered and tested the best tech organizer bags to help you choose the one that's best for you.
I often travel for work and have built myself an organized tech travel bag with a spare set of everything I needed, so that when packing I could just pick it up, sling it in a backpack and be packed with the reassurance that I have with me everything required for trouble-free tech travel.
Some tech cases have sections for dozens of cables, pockets for chargers and compartments for earbuds, mice and batteries. Others are simpler affairs with one or two compartments to carry your tech kit.
First, consider the essential tech gear that you need.
Tech to take on your travels
Here's some of the things you'll want to keep organized and maybe travel with you, plus our recommendations in each category:
• Phone charger: at least a 20W USB-C charger, preferably GaN for the smallest models. Read our roundup of the best phone chargers, and best iPhone chargers.
• Phone charging cable: Lightning for iPhone, USB-C for the rest. You may want to take more than one if travelling as a group, as everyone wants to charge at the same time! We have tested the best Lightning cable and USB-C cables for you, too.
• Laptop charger: this will likely have come with your laptop but you can buy smaller, more powerful chargers, and of course we have tested the best laptop chargers and best MacBook chargers so you travel only with the best.
• Power bank: essential for long haul or even a busy day out, a power bank can recharge your fading phone's battery to get your through to when you're next at a power socket. Yes, we've tested the best power banks and best MagSafe power banks for users if the iPhone 13/13/14.
• Mouse: laptop trackpads are fine for some people but most of us are happier with a proper mouse to use while scrolling, clicking and selecting. Best mouse and best mouse for Mac.
• USB adapter: it's likely your laptop doesn't have enough ports for everything you want to connect, even if you're using a wireless keyboard and mouse. A USB hub connects to your laptop with a single cable and can add extra USB-A and USB-C ports, plus Ethernet for wired Internet access, card readers for portable storage, and display ports such as HDMI so that you can connect your laptop to an external monitor (or two) or even a hotel TV for on-vacation streaming. See best USB-C hubs and best USB-C hubs for Mac.
• Hard drive: portable hard drives and SSDs come in pretty small formats these days, and come in handy for backups and keeping your most valuable but large-size files with you at all time. Check out the best SSD drives and Best SSD for Mac.
• Memory cards: much smaller than hard drives, SD and MicroSD cards are inexpensive ways to add large capacity storage to your laptop—512GB for as little as $50—in a tiny package. First used for super-lightweight camera storage, these cards are like a tiny hard drive you can fit in your wallet, but we recommend you store them in your tech case. See best Micro SD card.
• Memory sticks: cheap USB flash drives come in incredibly useful on your travels and are the perfect backup in your tech bag.
Here are the best tech cases and bags we have tested for organizing your cables, chargers and other gear.
1. Tripped Tech Traveler
Pros
Multiple compartments
Color choices
Form: Bag
Capacity: Medium
Dimensions: 9.5-x-5.5-x-3.5 inches (24-x-14-x-9cm)
Colors: Jet Black, Storm Gray, Moss Green, Deep Blue Sea, Rosewood Red, Desert Tan
A medium-sized bag with many compartments, the Tripped Tech Traveller, as its name suggests, is designed for vacations and work trips.
Well designed, it's made from tough 900D Polyester with weatherproof YKK zippers, with a soft protective padding and a leather handle and zipper pulls. It can sit upright on a table.
There are two zipped internal pockets (one meshed so you can see what's inside) for extra security for your most valuable kit, such as SD cards or a mini SSD. One external side pocket is big enough for your phone or whatever else you need fast access to.
In the center there are nine different-sized, divided, tight pockets for cables and small devices.
Larger open side areas are excellent place can carry bulkier items such as a laptop or phone charger. As a non-digital treat, there are four pen or pencil holders at the top of the interior.
Available in a range of colors, the Tripped tech Traveller is a premium tech bag that's as happy next to your desk or in your tent as it is in your suitcase or backpack.
2. Mujjo Tech Case
Form: Bag
Capacity: Medium
Dimensions: 9-x-6-x-3.5 inches (23-x-15-x-9cm)
Colors: Black, Blue
Slightly deeper than the Tripped Tech Traveller, the luxury-feel Mujjo Tech Case is similar but with a wider, padded open space, although fewer individual inside dividers and pockets. There are no interior zipped pockets but a spacious external one for easy access.
As such, it's better at carrying more stuff but in a slightly less organized way.
It's made from quality recycled nylon with a waterproof lining and waterproof vegan leather accents. It's one you'd show off rather than keep hidden in your suitcase.
Parent company Troubadour makes an almost identical tech case, called the Caboodle that is different only in being more expensive than the Mujjo Tech Case.
3. Bellroy Tech Kit
Pros
Opens flat
Color choices
Tough shell
Cons
Fewer pockets than other bags
Form: Bag
Capacity: Medium
Dimensions: 9-x-5-x-3 inches (23-x-13-x-7.2cm)
Colors: Black, Black Ash, Slate, Navy, Ranger Green, Bronze, Saltbush (leather free)
What we love about the Bellroy Tech Kit is its ability to open flat so you can quickly find or place your essential tech gadgets.
There's plenty of space inside for one person's gear, or for a family who share a charger and cables. It's always handy for those living or travelling together to have the same gadgets (although in different colors) for this reason as you need just one charger—preferably multiport— and the same cable types.
There's less pockets than you'll find in rivals such as the Tripped Tech Traveller, but you'll find your stuff quicker as a result—so less organized into sections but faster to access.
The case is not rigid but feels more hard-shell than other organizers reviewed here.
Bellroy also sells a Tech Kit Compact version (17-x-13-x-5.5cm) if you have fewer tech accessories to lug around, plus a more open but also smaller Tech Caddy (24-x-15-x-8cm) that boasts a zipped interior compartment, each with a wide choice of attractive colors.
4. Mujjo Tech Kit
Pros
Compact
Opens flat
Elastic organizing straps
Form: Bag
Capacity: Small
Dimensions: 6.5-x-5.5-x-2.5 inches (17-x-13.5-x-6cm)
Colors: Black, Blue
Mujjo also sells its smaller Tech Kit that opens out flat, which can make finding gear much easier than rummaging in a bag—even if everything is tidily organized in dividers.
With half the capacity (1.5L vs 3L), it can carry fewer items but it may be all you need when travelling alone as there's space for a charger or two, a few cables, earbuds and a USB hub.
There's also a pen pocket and zipped enclosure inside.
Like the Mujjo Tech Case, the Tech Kit is made from quality recycled nylon with a waterproof lining and waterproof vegan leather accents.
5. STM Dapper Wrapper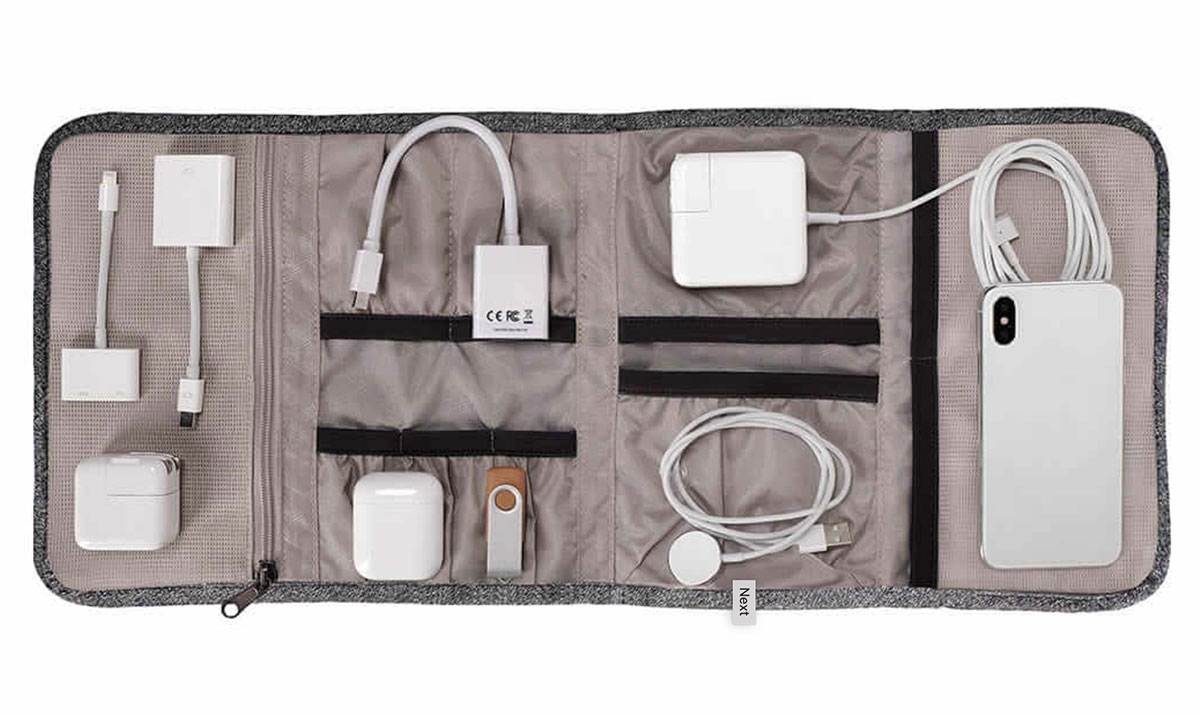 Pros
Compact
Multiple compartments
Elastic organizing straps
Opens flat
Cons
No big space
Bulky with large charger inside
Form: Pouch case
Capacity: Medium
Dimensions: 10.2-x-5.7-x-0.4 inches (26-x-14.4-x-1cm)
Colors: Black, Granite Black (gray), Slate Blue, Windsor Wine
STM's nattily named Dapper Wrapper is, as the name suggests, a wrapround case for your tech gear.
Unfurled flat it's pretty big and very accessible, but when closed makes a compact, narrow package. Of course, as with all the bags and cases here, once full, the dimensions will bulk up.
Inside, there are a bunch of holding pockets, including one mesh posket with a zip. Two larger mesh enclosures will fit large laptop chargers. Smaller pockets are for cables and bubs.
The polyester fabric features a water and dirt repellent C6DWR coating. The plastic clip features a neat magnetic closure once the pouch is folded over to close.
6. Ugreen Portable Cable Organiser Bag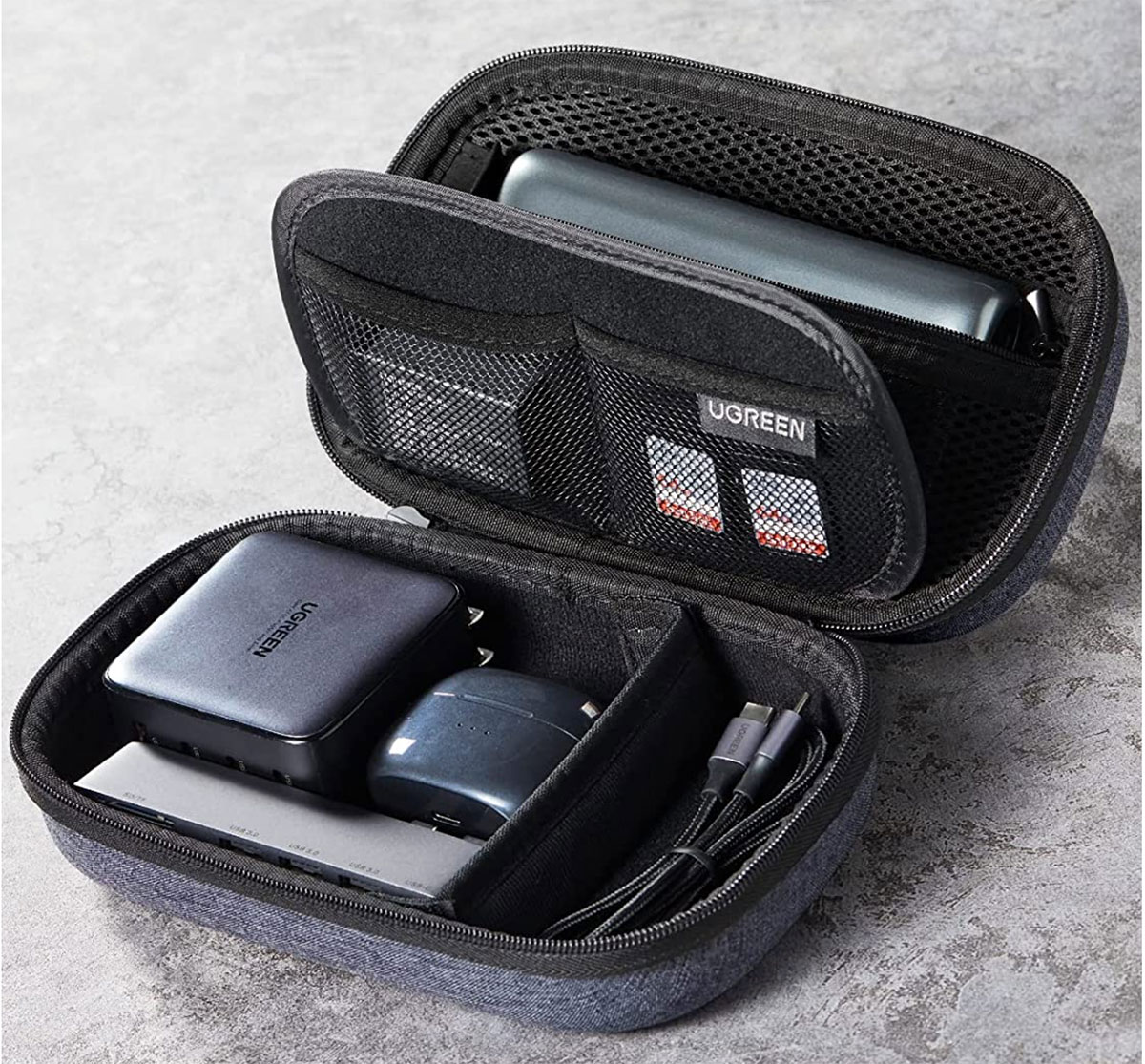 Pros
Multiple compartments
Hard shell protection
Form: Case
Capacity: Medium
Dimensions: 8-x-5.1-x-2.8 inches (20.3-x-13-x-7.2cm)
Colors: Gray
Ugreen makes some great tech accessories, such as chargers and cables, and so is maybe best equipped to build a carrying case for such essentials.
Its Cable Organizer Bag is designed for more than just cables. Inside the shockproof and waterproof hard-shell case is a large compartment divided into three parts, with space for a couple of chargers, power bank, mouse, small hard drive, memory cards and a few cables.
The main compartment can be flexibly divided with a moveable separator keeping items tightly packed.
One pocket is zipped, and mesh materials mean you can quickly see where all your gear is.
A leather strap hook means you can attach it to your backpack.
7. Ugreen Travel Case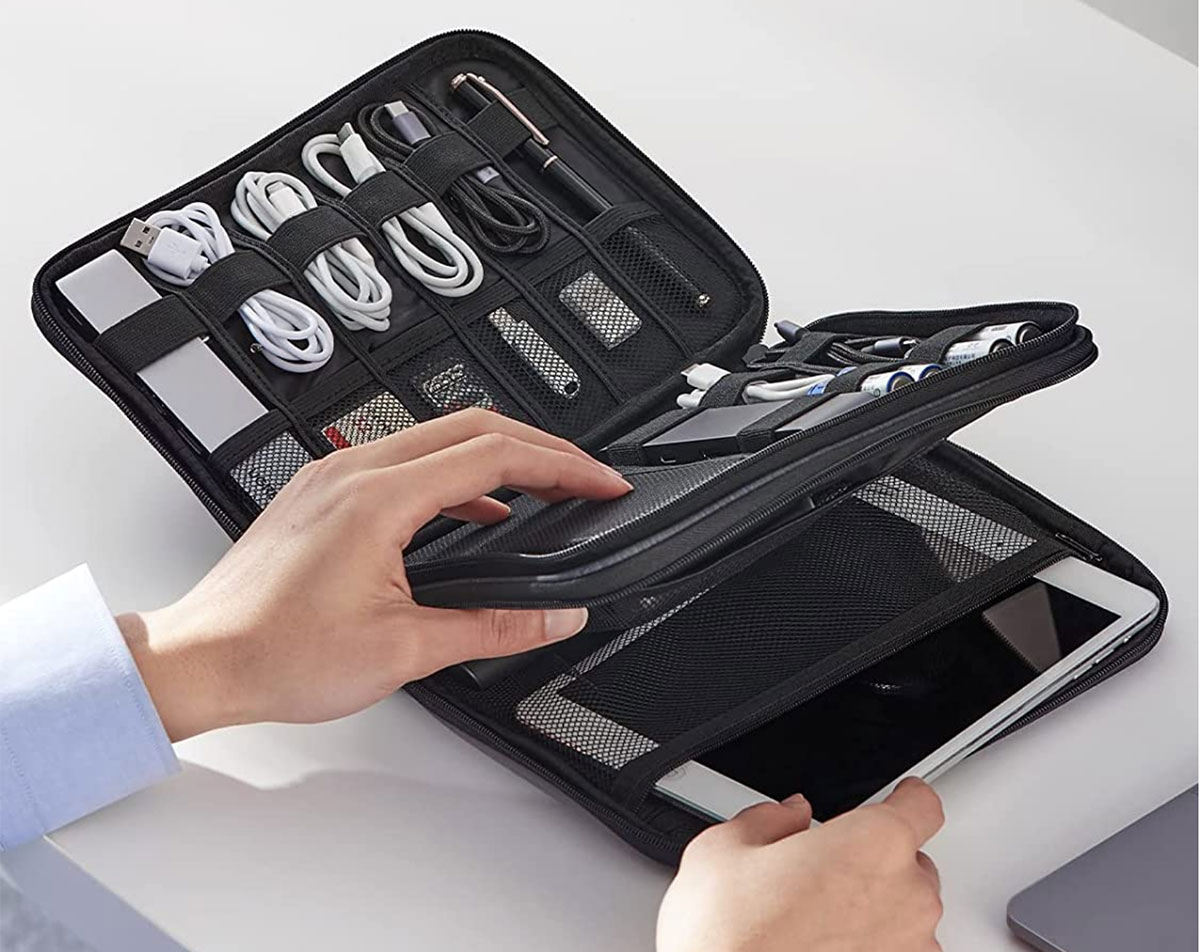 Pros
Multiple compartments
Elastic organizing straps
Space for tablet
Form: Case
Capacity: Large
Dimensions: 9.6-x-6.9-x-2 inches (24.5-x-17.5-x-5cm)
Colors: Gray
Ugreen's Travel Case is compact but large enough to carry an 8-inch tablet, such as an iPad mini or Amazon Fire tablet, as well as numerous cables, flash drives, USB hubs, pens, chargers and a power bank in its many mesh compartments and under controlling elastic straps.
It is slim and opens out flat for easy access to your accessories.
8. STM Must Stash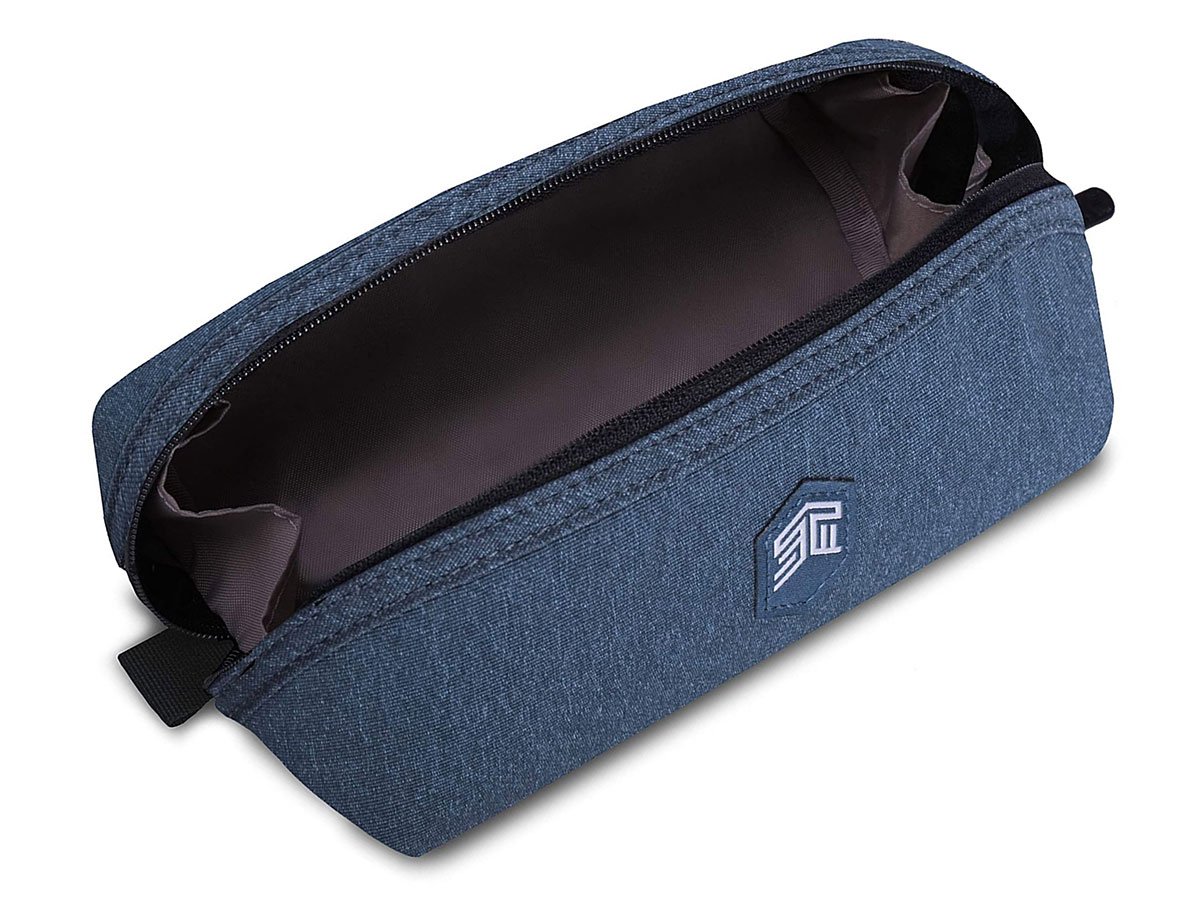 Form: Case
Capacity: Small
Dimensions: 7.9-x-3.9-x-4.3 inches (20-x-10-x-11cm)
Colors: Black, Granite Black (gray), Slate Blue, Windsor Wine
STM has had a lot of fun naming its products and its Must Stash is a simple one-space zipped bag made from a polyester fabric with water and dirt repellent C6DWR coating.
It's not too big so you'd lose your tech essentials in it but it is large enough to carry a couple of chargers, cables and other small tech gadgets that you need to keep in one place or take with you on your travels.
9. ProCase Portable Felt Tech Pouch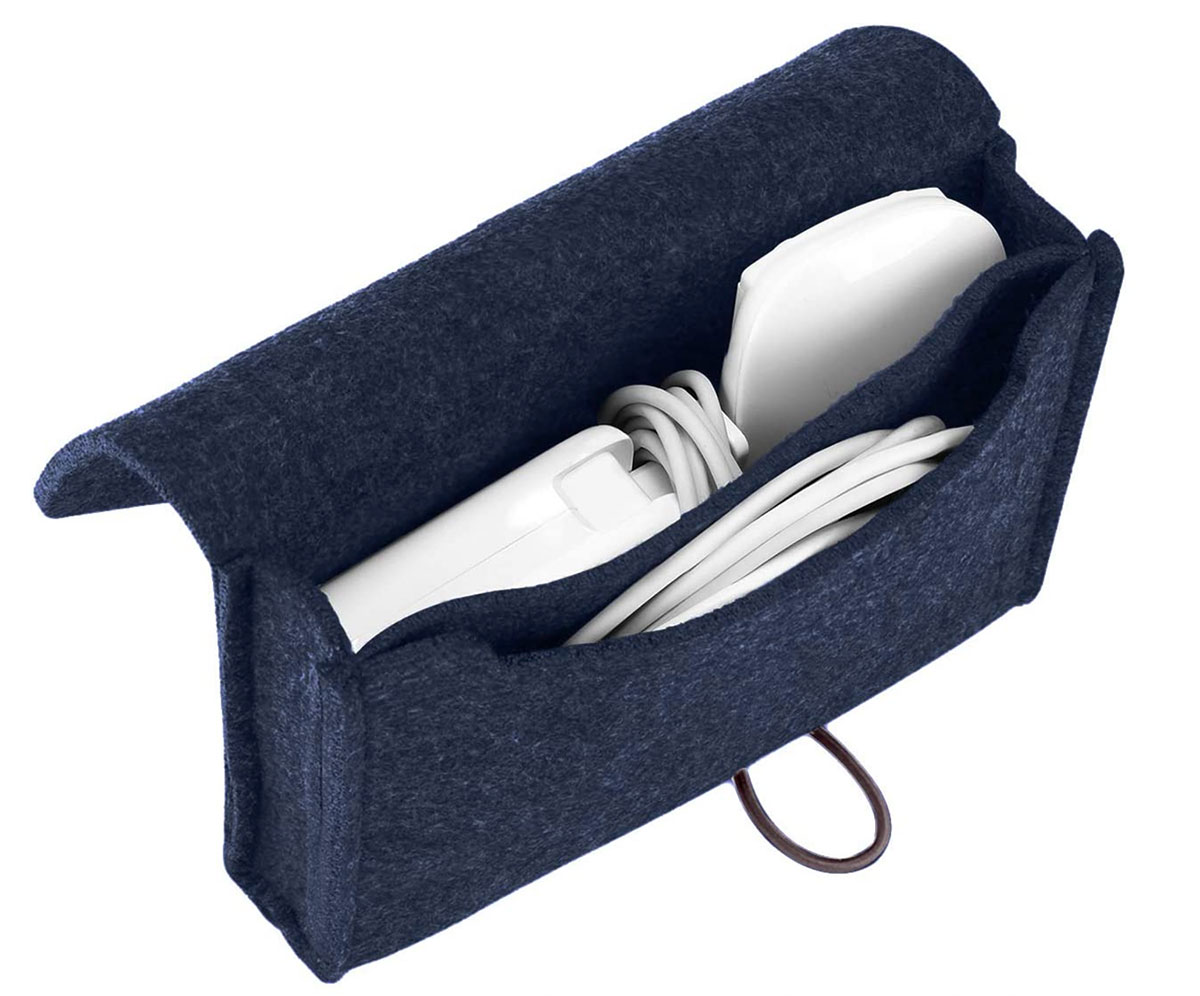 Form: Pouch
Capacity: Small
Dimensions: 5.1-x-6.5-x-1.6 inches (13-x-16.5-x-4.1cm)
Colors: Black, Gray, Navy
This attractive compact pouch has two open compartments that could fit a small charger and some cables, plus gear such as an earbuds case. It's made from soft but durable felt and closes with an elastic strap that wraps around a large button.
10. WWW Electronics Accessories Organiser Bag
Pros
Compact
Multiple compartments
Color choices
Form: Case
Capacity: Small
Dimensions: 7.5-x-4.3-x-2.2 inches (19-x-11-x-5.6cm)
Colors: Black, Gray, Blue, Pink
This neat little tech gear case is deceptively sized: inside there are stretch compartments galore for cables, memory cards and USB sticks, a charger, mouse or power bank, cables and more gadgets.
You wouldn't want to fit too large a charger in it, but it would suit most individuals' travel tech kit.
It's well made, water-resistant, and appears robust to touch with two firm zippers and a handy carry strap.